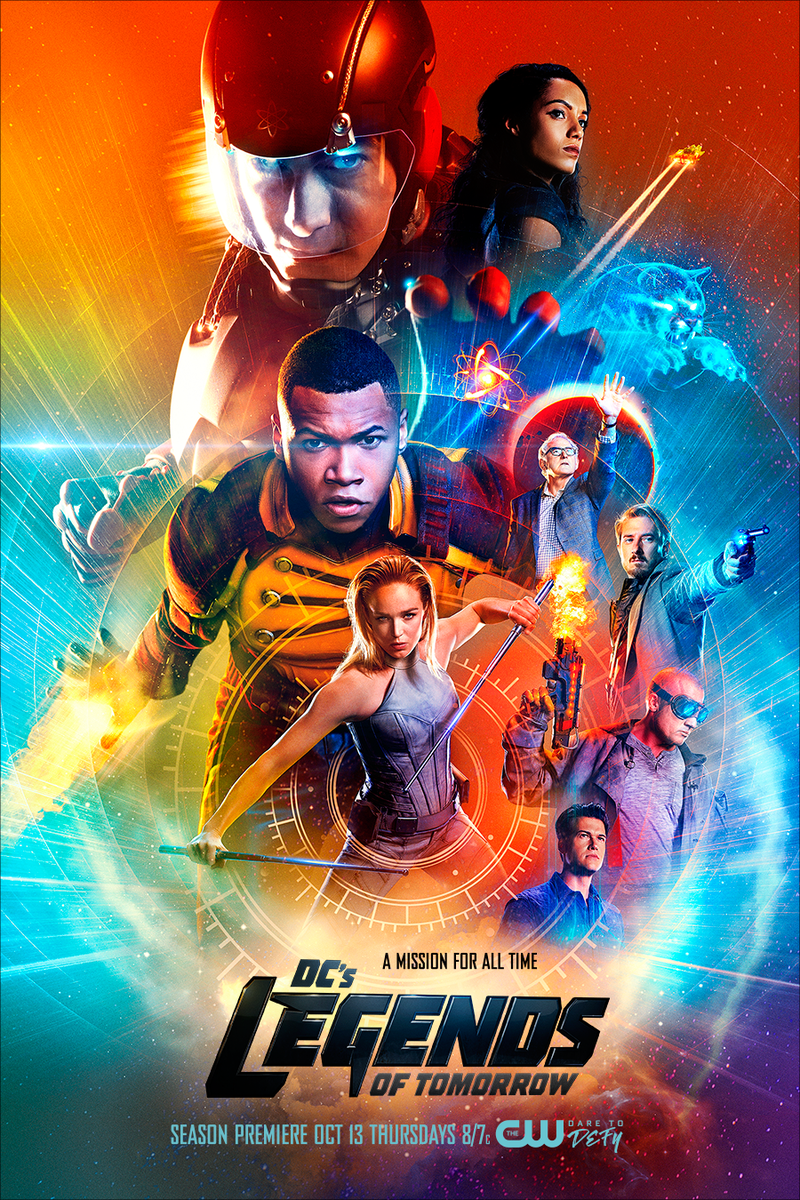 DC'S LEGENDS OF TOMORROW When heroes alone are not enough… the world needs legends. Having seen the future, one he will desperately try to prevent from happening, time-traveling rogue Rip Hunter is tasked with assembling a disparate group of both heroes and villains to confront an unstoppable threat – one in which not only is the planet at stake, but all of time itself. Can this ragtag team defeat an immortal threat unlike anything they have ever known? The cast includes Victor Garber (The Flash); Brandon Routh (Arrow); Arthur Darvill (Doctor Who); Caity Lotz (Arrow); Dominic Purcell (The Flash) and Wentworth Miller (The Flash). Greg Berlanti, Marc Guggenheim, Andrew Kreisberg and Sarah Schechter are EPs.
Started 21st January in the US. Renewed for Season 2 which returned 13th October in the US & 3rd November on Sky 1. Renewed for a 3rd season.
The Flash And Arrow Spinoff May Finally Have A Real Title This Time

A report on Tuesday indicates that Shipp was probably not too far off during his Q&A session. To differentiate from TNT's Legends, it looks like the CW may be rolling with Legends of Tomorrow.

In the world of modern TV spinoffs, sometimes the name can be just as important as the subject matter involved. When it comes to the upcoming heroes-and-villains offspring of Arrow and The Flash, one unofficial name has joined another, as the latest rumored title for the star-studded spinoff appears to be Legends. Will that be the one that sticks?

The potential reveal comes from the star of both the modern Flash and the 1990s Flash, John Wesley Shipp, who gave an amusing and spirited Q&A at the Cape Comic Con 2015 in Cape Girardeau, Missouri. What's more, he doesn't say it as if it's a reveal, but almost too matter-of-factly. When asked about how deep into the Allen family storyline the show might go, Shipp says that producer Andrew Kreisberg & Co. have been planning everything out from every angle, which leads to this:
You guys know about Legends?…Firestorm…Victor Garber's gonna be on it. Wentworth Miller. Captain Cold. They're doing 13 episodes of that.

So, not only does he seemingly put Legends out there as the official title, he says that it's already being planned for 13 episodes, which is a little more than half of the season orders for Arrow and The Flash have been. At this point, he's the only one saying those things, so we're taking it with a grain of salt.

The first tentative title the spinoff had was The Atom, which made it sound like the show was centered on Brandon Routh's high-flying superhero, but Kreisberg soon shot that name down, saying it wasn't real. Legends actually has ties to the DC Universe, though, as it was a major crossover event following the classic Crisis on Infinite Earths storyline in the mid-1980s. That one also had a slew of other heroes involved, so that would be a great hint at even more major comic characters hitting the small screen.

Something that might butt heads with the name Legends is the fact that TNT already has the Sean Bean-starring series of the same name, which will get its Season 2 later this year. Now, the producers could always choose to go with DC's Legends or something like that, following in the footsteps of Marvel's Agents of S.H.I.E.L.D. and Marvel's Daredevil. But that's still a little too close.
http://www.cinemablend.com/television/F ... 71426.html
SpoilerTV has learned that the spin-off for The Flash and Arrow, which is currently in development at The CW, has tentatively been titled "The Atom". This title is not final and maybe be changed before the show goes into production.
http://www.spoilertv.com/2015/04/arrowf ... title.html
Arrow/Flash Superhero Team-Up Spinoff In Works At CW

Brandon Routh, Victor Garber, Wentworth Miller, Caity Lotz Star

EXCLUSIVE: DC Comics superheroes are uniting in a potential new drama series at the CW, a spinoff from hits Arrow and The Flash that will feature several fan-favorite recurring actors/characters from both shows. I have learned that the network has teamed with Arrow creators Greg Berlanti, Andrew Kreisberg and Marc Guggenheim

for a project eyed for next season

toplined by Brandon Routh, Victor Garber, Wentworth Miller and Caity Lotz.

The untitled project, now in development, is described as a superhero team-up show. Routh, Miller and Garber will reprise their popular DC Comics characters —

Arrow's Ray Palmer/The Atom (Routh), Flash villain Leonard Snart/Captain Cold (Miller), and Flash's Dr. Martin Stein (Garber). Because her Arrow character Sara Lance was killed off, with her sister Laurel Lance (Katie Cassidy) taking over as the Black Canary, it is unclear whether Lotz will play the same or new superhero.

The project is in early stages of development, so there is a possibility for other Arrow/Flash characters to cross over to the new spinoff. Additionally, in a tidbit that should get fans fired up,

I have learned the new project will include three major DC Comics characters who have never appeared in a TV series.
http://deadline.com/2015/02/arrow-flash ... 201382466/
CW's new Flash-Arrow spin-off to honor the 'great team-up movies'
"For me, it honors all of the great team up movies, whether it's Ocean's Eleven or whether it's the superhero books," Berlanti tells EW. "That's what it's about. If you go back to the old westerns, there would be The Lone Gunman, but there would also be The Magnificent Seven. It's very much in the spirit of those kinds of movies and shows."

Berlanti—who is also executive-producing CBS' Supergirl pilot with Kreisberg, Schechter and Ali Adler—stresses that the new project would be quite different than what we're used to. "I only want to do them when I know that they'll feel distinct from the other shows we're doing," he says. "This is really its own thing."

One of the main burning questions after the project's announcement was why Robbie Amell was missing from the cast list, considering he makes up the other half of Firestorm, Ronnie Raymond. Unfortunately, it sounds like bad news could be on the horizon as Berlanti admits there is a particular reason for his absence, but "I can't say why."
http://www.ew.com/article/2015/03/16/cw ... ovies?asdf