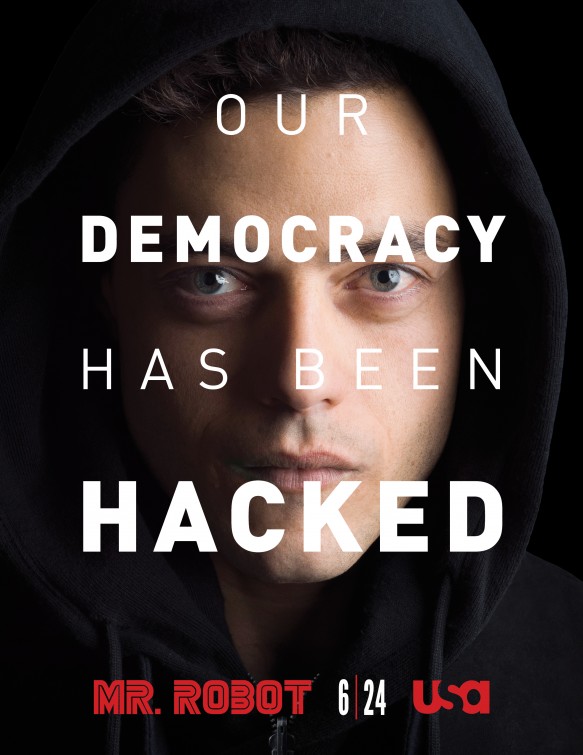 Wednesdays in the US. Renewed for a 2nd season which started 13th July (US) & 14th July (Amazon Prime UK). 1st season is on Amazon Prime in the UK & started 21st July on Universal Channel. Renewed for a 3rd season which starts 11th October 2017.
MR. ROBOT follows Elliot (Rami Malek, "The Pacific"), a young programmer who works as a cyber-security engineer by day and as a vigilante hacker by night. Elliot finds himself at a crossroads when the mysterious leader (Christian Slater, "The Adderall Diaries") of an underground hacker group recruits him to destroy the firm he is paid to protect. Compelled by his personal beliefs, Elliot struggles to resist the chance to take down the multinational CEOs he believes are running (and ruining) the world. The series also stars Portia Doubleday ("Her"), Carly Chaikin ("Suburgatory") and Martin Wallström ("Simple Simon").
http://www.usanetwork.com/mrrobot
https://www.facebook.com/WhoIsMrRobot
https://twitter.com/WhoIsMrRobot
Cast
-
http://www.imdb.com/title/tt4158110/?ref_=nv_sr_1
Elliot Alderson (Rami Malek)
Mr Robot (Christian Slater)
Angela Moss (Portia Doubleday)
Darlene (Carly Chaikin)
Tyrell Wellick (Martin Wallström)
Krista Gordon (Gloria Reuben)
Gideon Goddard (Michel Gill)
Ollie Parker (Ben Rappaport)
Season 1 -
Grumpy David
Everyone should watch Mr Robot. Really strawberry floating good. Definitely adding to the regular viewing list.
HSH28
Yeah Mr Robot looks like its going to be quality.
Zartan
Blimey Mr Robot was rather good
Entertainment Weekly - A
Mr. Robot echoes Fight Club in its interest in how we live within ourselves—and live with ourselves—as people of conscience, and negotiate our relationship to society's flawed, corrupt operating systems. The show may not click with everyone, but it left me electrified.
http://www.ew.com/article/2015/06/18/mr-robot-ew-review
RogerEbert.com - 90%
USA's "Mr. Robot" might be the best show in the history of the network. (Sorry to fans of "Psych," "Burn Notice," "Suits" and "Monk"). It has that kind of potential. There's a reason they took the premiere episode, which plays like a film, to the SXSW and Tribeca Film Festivals. It definitely has the best series premiere for the network that has struggled a bit to find a critical breakthrough in recent years. The first episode is riveting, driven by cinema-caliber direction from Niels Arden Oplev ("The Girl with the Dragon Tattoo"), a razor-sharp script from Sam Esmail ("Comet") and a fantastic performance from Rami Malek ("The Master").
http://www.rogerebert.com/demanders/sum ... bot-humans
USAToday 88% -
You haven't quite seen a performance like Malek's, who drags us deeply into Elliot's wide-eyed psychosis and crushing loneliness, or a hero like Elliot--an unexpectedly sympathetic morphine addict with a history of delusions and psychotic breaks.... Who knows: Eventually he might even explain that title. Until then, enjoy a show that just might end up being named one of the summer's best.
http://www.usatoday.com/story/life/tv/c ... /29106217/
Hitflix B+ -
"Mr. Robot" is compulsively watchable and interesting. It's a reminder that even the most well-worn cliches can still work with the right execution.
http://www.hitfix.com/whats-alan-watchi ... rami-malek
Forbes
The Best Show Of The Summer And On Track To Be A Modern Classic
http://www.forbes.com/sites/merrillbarr ... sa-review/
Enjoyed the 1st episode a lot, as did quite a few people here so thought I'd chuck a thread together.