The next award is for...
- Mori what the strawberry float are you doing here. You're not new. You don't even have zero posts. And Supertramp you're too new (or too old). Again wasted spaces. I'd even argue Jay isn't new. Only because I remember him kicking ass at GGGC over a year ago and he feels like he's been here for ages. BizzyBarra is newish isn't he? Unless it's just a name change I didn't notice. Same with Lonely Angel and atheistium. Mibs.
And I've managed to wrangle a guest host for this one! God couldn't make it this year, but I have the next best thing
[Play this video video in a separate tab/window while you read this:
http://www.youtube.com/watch?v=SSSxSmm9tFM
]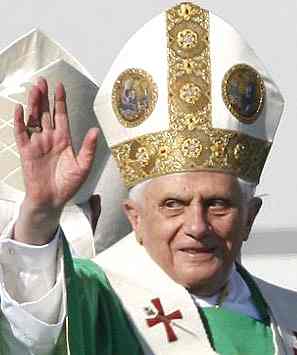 Holy congregated masses, Batman! It's-a me, the Pope! Whoo-hooo!
How's everybody doing? You doing good? I thought I wouldn't be able to get here in time as I've just got back from a pretty gruelling few days around the UK. I just flew in from Glasgow and boy are my arms tired!
No, but seriously, it's great to be here, announcing this next award, it really is, I've been a big fan of GRcade for ages!
No, really, it's true. I first discovered the site about a year ago when I had some Papal duties in mainland Europe. I was Googling all the towns I had to give mass in, y'know, checking out the competition, that sort of thing. Turns out in the arse-end of nowhere somewhere in Holland there's this town called "Wank"...
...Yeah, I know, you couldn't make it up, could you?
So, anyway, I was going to be doing my Papal duties in the town called Wank. So, naturally, I end up at GRcade after I Google "mass wank". True story. True story.
I was going to sign up so I could join in with the banter, it looks really fun. So, I try to sign up as my favourite online screen name, "Catholics Are Lovely". Turns out I'm not allowed that, it's too long or something, so I use the shortened version "CAL"...
It appears somebody already uses that. I guess he's the resident spreader-of-the-faith, then. Y'know, always going on about how great Christians are and all that. I'm sure he's doing good work. In the end I thought I'd go undercover so as not to upstage the poor guy – so, if you ever see a post by a guy called "diabolito", that's me!
Which brings me onto the award that I'm announcing, the Best Newcomer. As a newcomer myself I know what it's like to start-out – those first, tentative posts to test the water, as it were, the slow blossoming of a potential forum celebrity (or villain). God know's it's tough.
He actually does, he mentioned it the other day on the Holy phone.
You've been a great audience, thanks for having me, you've been special. So, anyway. The winner of Best Newcomer is...