Developer:
Bioware
Publisher:
EA
Genre:
Action RPG
Platforms:
360/PS3/PC
Release Date:
9th March 2012
Important:
Origin will be required to run all editions of Mass Effect 3 on PC, including physical copies. Mass Effect 3 will not be available on Steam.
STORY
In 2157, humanity discovered it was not alone in the universe.

Thirty years later, they found a peaceful place among dozens of galactic species. But this idyllic future is overshadowed by a dark past: Reapers, a sentient race of machines responsible for cleansing the galaxy of all organic life every 50,000 years, are about to return. The leaders of the galaxy are paralyzed by indecision, unable to accept the legend of the Reapers as fact. But one soldier has seen the legend come to life.

And now, the fate of the galaxy depends on him/her.
GAMEPLAY
Choose Your Experience
Action Mode - Jump right into the action as the iconic Commander Shepard. Combat difficulty is adjustable. Conversations play as cutscenes.

Role Playing - The traditional Mass Effect experience. Customise your character and choose dialogue responses. Combat difficulty is adjustable.

Story Mode - Customise your character. Experience and control the interactive story without difficult combat.
Choices & Exploration
Travel to and from various locations of the galaxy in a galactic war against the Reaper threat, where your decisions will ultimately decide the fate of entire civilizations.
Combat
Play your own way. Choose between six different combat classes, each with their own unique powers and abilities. Utilise these abilities and those of your squadmates to aid your preferred play style, whether that be taking the tactical approach or charging into the battlefield with all guns blazing.
Classes
Soldier - Soldiers are pure combat specialists: No one is tougher or more suited to taking down enemies with barrages of gunfire. Soldiers have thorough weapons training and can use all special ammo types as well as grenades. High-level operatives are outfitted with ocular synaptic processors that allow them to focus on targets with lethal accuracy.

Soldier Powers: Adrenaline Rush, Concussive Shot, Frag Grenade, Incendiary Ammo, Disruptor Ammo, Cryo Ammo
Infiltrator - Infiltrators are tech and combat specialists with the unique ability to cloak themselves from visual and technological detection. Their inventory is stacked with a wide variety of weapons, equipment and powers. Infiltrators are deadly at any range, but particularly so with a sniper rifle. When scoping a target, superior reflexes take over, time momentarily slows down, and the Infiltrator finds an easy picking.

Infiltrator Powers: Disruptor Ammo, Cryo Ammo, Incinerate, Tactical Cloak, Sticky Grenade, Sabotage
Vanguard - Vanguards are feared for their high-risk, high-reward combat style, closing quickly on enemies and destroying them at close range with weapons and biotic abilities. They are outfitted with L5n implants, enabling them to perform a biotic charge that strikes the opponent with incredible force while bringing the Vanguard in close for close-range combat.

Vanguard Powers: Incendiary Ammo, Cryo Ammo, Biotic Charge, Nova, Shockwave, Pull
Sentinel - Sentinels are unique, bringing both tech and biotic abilities to the battlefield. In addition to complete weapons training, Sentinels are equipped with an advanced shield that makes taking cover much less necessary and rushing their enemies much more productive. This armor system can also be detonated to blast nearby enemies.

Sentinel Powers: Throw, Warp, Lift Grenade, Tech Armor, Overload, Cryo Blast
Adept - Adepts are biotic specialists, capable of disabling and killing enemies with raw biotic power. While they lack advanced combat training, they are the best at defeating enemies without firing a shot. They are outfitted with L5x implants that can spawn a micro-singularity, damaging enemies and pulling them into the air.

Adept Powers: Warp, Throw, Shockwave, Singularity, Pull, Cluster Grenade
Engineer - Engineers are tech specialists, the most effective class at disabling the defenses of the toughest enemies or incapacitating them to render them harmless. In combination with their weapons training, Engineers have the unique ability to spawn combat drones that can harass enemies or force them out of entrenched cover positions.

Engineer Powers: Incinerate, Overload, Cryo Blast, Combat Drone, Sabotage, Sentry Turret
Customization
Forge your own Shepard. Choose your gender and appearance, select which weapons you want to bring into battle and customize them with various attachments such as scopes and barrels. Decide how you want your powers to evolve and which party members you want at your side.
Kinect Functionality
Mass Effect 3 on Xbox 360 includes optional Kinect support. The game makes use of the voice recognition software within the sensor, allowing players the option to command their squadmates through yelling orders, such as telling them to move position or use certain powers. Players can also control conversations by reading the paraphrases on the dialogue wheel aloud.
Multiplayer
Mass Effect 3 will feature an online four-player co-op multiplayer mission mode separate from the single-player story. In this mode, players will create a new custom character to fight on different fronts of the galactic war. Players can choose between many races in the Mass Effect universe to build their character, including krogan, asari, turians, humans, drell, quarians, salarians and possibly more. The multiplayer will include a progression system, complete with weapon upgrading and levelling up.

Successfully completing multiplayer missions can also have an impact on the single-player story. The more missions you complete, the more war assets you gain for Shepard in the single-player, helping in the war with the Reapers. This can even impact what ending you will receive.
VIDEOS
Teaser Trailer (VGAs 2010)
Fall of Earth Trailer (E3 2011)
Live Action Trailer (E3 2011)
Squad Leader Trailer (Gamescom 2011)
N7 Collector's Edition
Against All Odds Trailer (VGAs 2011)
Pre-Order Bonus: M55 Argus Assault Rifle
Pre-Order Bonus: N7 Warfare Gear
Pre-Order Bonus: AT12 Raider Shotgun
Better with Kinect
Voice Cast Reveal
Adrenaline-Pumping Gameplay
Ruthless & Intelligent Enemies
Build a Customizable Arsenal
Integrated Co-Op Multiplayer
Interactive Storytelling
Reinstated (FemShep Trailer)
Take Earth Back Cinematic Trailer
Fight (Live Action TV Trailer)
Official Launch Trailer
SCREENSHOTS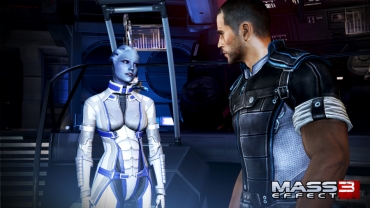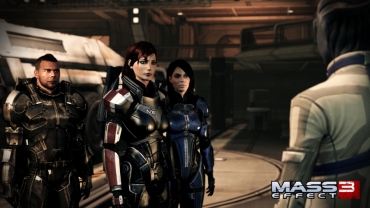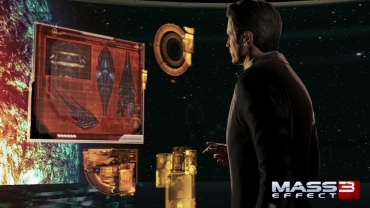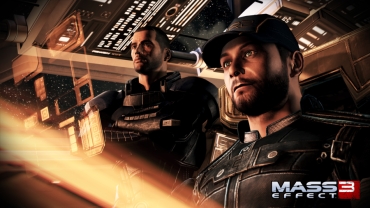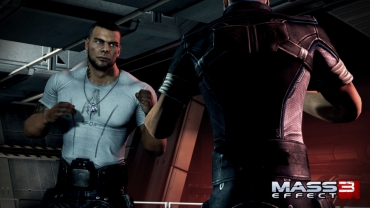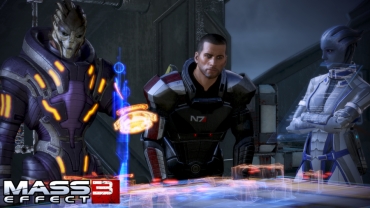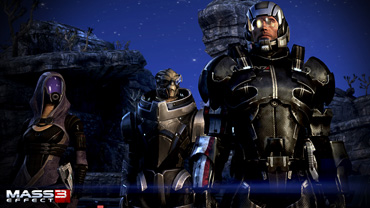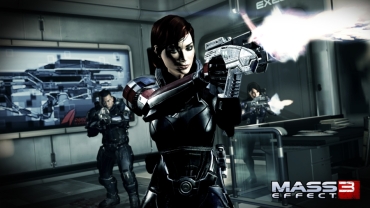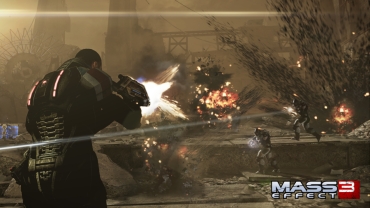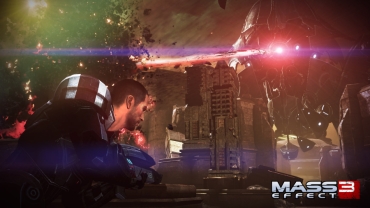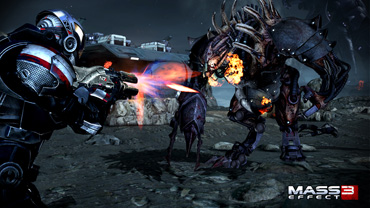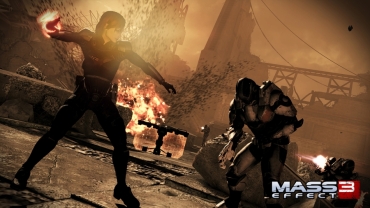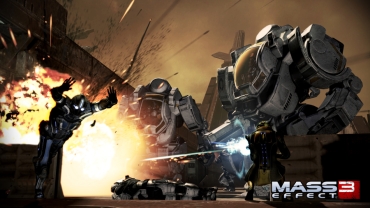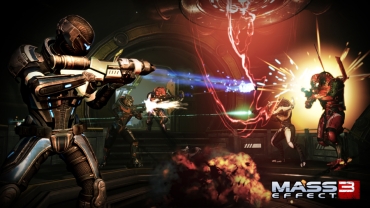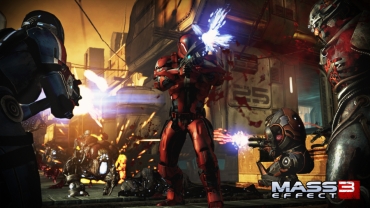 LINKS
Official Mass Effect Website
Mass Effect facebook
Mass Effect twitter
Mass Effect Wiki
FAQ