Old consoles are great aren't they? If you want to play old games it might worth thinking about what you can do to maximize your experience and you can do this with a range of addons and mods. What I intend to do with this thread is show each available mod/add on or accessory for each console and where appropriate where it can be purchased, carried out yourself or I may be able to do it for a nominal fee. Now just to give you an idea of what I can offer for example I will replace batteries in old cartridges which require them for saves or sega saturn mod service ill add to the list as time goes on so bare in mind this is a work in progress for the time being.
Recommended Retailers and other links
http://www.consolegoods.co.uk/
- Covers most consoles, sells parts, cables, pre modded consoles, games, imports.
http://www.consolepassion.co.uk/
- Offers premium modification services for most old consoles including region free, RGB conversions and also switchless mods.
http://www.gamersgear.com/
- Offers cables, replacement parts for both modern and old consoles (includes N64 sticks).
http://retr0bright.wikispaces.com/
- Tells you how to make a solution that can REVERSE the discoloration process that can happen to some older consoles/computers.
http://www.nintendorepairshop.com/
- Great retailer for retro mods and restoration products but is based in the USA. (not just nintendo).
http://www.segastyle.com/store/
- Sells Sega Saturn mod chips and replacement parts.
Nintendo 64
Gonna start with the console that is dear to my heart!
If you are going to start collecting or just want to play some classic N64 games I would recommend getting a NTSC console that can be RGB modded for best picture results but not all revisions are compatible:
Now this does require the use of a soldering iron and a gamebit security screwdriver (Available from
HERE
) but it is a really straight forward mod, I have done one myself since getting my own premodded N64 and I had no difficulties, full instructions can be found at
www.gamesx.com
Also bare in mind you will need to purchase a RGB scart cable (I got mine from ebay for £4.50).
PAL machines can not be modded in this way, so not only is the game running slower it looks crappier.
As you can see it makes a massive difference and is worth the small amount of effort to achieve such great results. However now you have this stunning picture you realize that the controller has seen better days and the thumb stick is a absolute joke! All that effort to make the picture so crisp and clear and you cant even play on it! But there is hope! You can now purchase 3rd party replacement sticks which make the controller BETTER than new. The third party ones are very similar to gamecube thumb sticks:
Available from Gamersgear £7.95
Only a Philips head screw driver required and these genuinely are 100% better than the originals IMO.
Now the games themselves need to be looked after in order to keep them working. What I would recommend for this is getting a cleaning kit like
THIS
and taking apart your games and carefully cleaning the connectors. There is a video inside the link which explains exactly what to do. Now finally we come to something that may not be a issue yet but its good to know it can be fixed. Battery Back up saves will eventually die and you will need to replace the battery in order to continue using the save functionality. Now there are two methods to do this: method 1 requires a soldering iron method 2 requires a bit of tape. Personally I want it doing properly so I solder.
Method 1
Method 2
You WILL lose your current data but at least the game is functioning how god intended! These are SNES instructions but the principles are the same.
Sega Saturn
The over looked 32bit machine from Sega. The Saturn really was a great machine and had some fantastic games from Sega and Capcom especially. Now a lot of the great games or superior versions appeared on the Japanese market and a lot of the mainstream games are available for stupidly cheap prices on eBay. Now as with the N64 I would recommend getting a Jap machine for 2 reasons firstly it looks nicer in white and second its less faffing on!
Now if you are interested in playing import games you might want to consider "modifying" the console to make it run "anything" from that region no matter what media it is on...
To do this it is really straight forward and infact it is much easier than the original mod I have but some saturns are easier than others to mod:
Model 1 Saturn:

Oval power and reset button / 20 pin ribbon cable

Model 2 Saturn:

Oval power and reset buttons / 21 pin ribbon cable / 64 pin IC.
Round power and reset buttons / 21 pin ribbon cable / 64 pin IC.
Round power and reset buttons / 21 pin ribbon cable / 32 pin IC.
Round power and reset buttons / 21 pin ribbon cable / No IC (AKA Sanyo Board)

Now the Model 2 Saturns are the easiest and full instructions can be found at
HERE
they also supply the chip.
Now this mod will allow you to play games from back up but only from the region intended. Now if you are like me and only plan to use such a device to sample something before you get it you will still want to play games from other regions, now if you are just sampling them you can get a program that changes the region of ISO files to Jap or what ever region Saturn you have in order to make them run. To be honest this isn't a ideal way and what you really want if you want to play games from any region is.....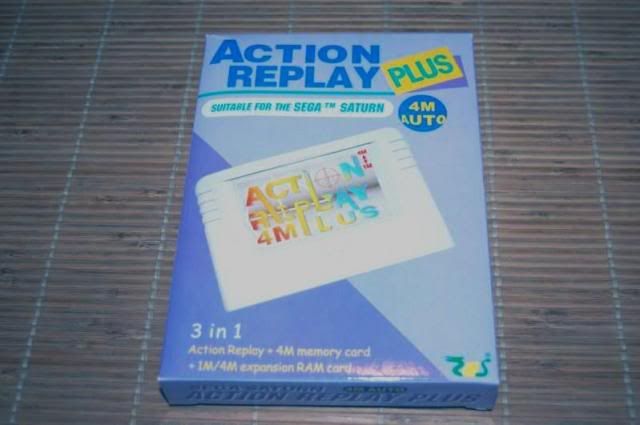 The EMS 3 in 1 card, while plugged into the Saturn it will boot games from ANY region and combined with the above mod will allow you to play anything. Not only does it do that it but also is a 4mb expansion for the games that require it. You can also use it to back up game saves however it can not be used to save games while in game.
Now that's my set up for the Saturn you can get some sweet mods from console passion which allow you to change the region, 50hz/60hz of a PAL machine not sure what else it plays exactly but it is switch less.
The other thing you need to think about is replacing the internal battery which is straight forward and self explanatory to allow you to keep saving. For my sins I don't actually have a good video cable for this console yet but from my understanding you can just purchase a RGB scart which works with no fuss.
SNES coming next.....
FOR SALE:
I have 5 reconditioned controllers for Nintendo 64 these are cleaned, have had the sticks replaced and are available in red, green and 3x grey £15 each + P&P (will need to check) PM if interested.
If I have missed anything or you want to add anything please let me know