Suspension of democracy ruled unlawful by Supreme Court | Parliament NOT prorogued | Election November?
Posted: Wed Aug 28, 2019 4:16 pm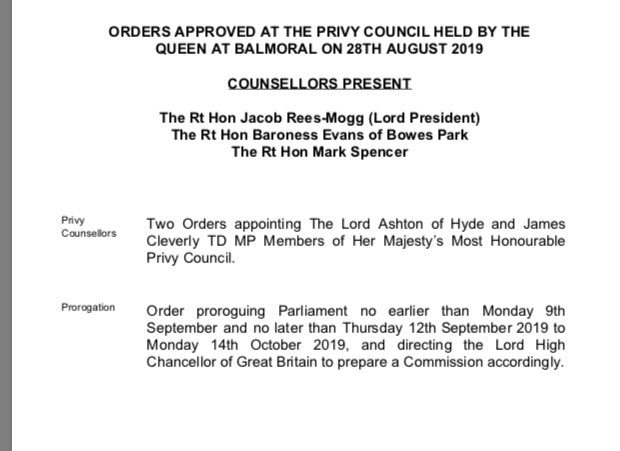 Protests and petitions
Smorgasbord of news and pithy takes
Jeremy Corbyn predicted this. No matter what your opinion of Labour, know that they tried to stop this.



Owen Jones calls for occupation of Parliament and a general strike. He says "witty placards will not topple governments."



"I gave this country my youth. You can't just kick me out!" A Portuguese woman who has been here 20 years says the settlement scheme isn't working.
https://twitter.com/AlexTaylorNews/status/1166810390552023041


The Defence Secretary has openly admitted that the prorogation is to force through an agenda despite the government's lack of majority. It's not about a Queen's Speech!
https://twitter.com/MonarchyUK/status/1167048291273584641


Boris Johnson assured MPs in writing he would not prorogue Parliament. He acknowledged it would represent an affront to democracy.



The Home Office is preparing to end the current system of family reunification for asylum-seeking children if the UK leaves the EU without a deal.



Johnson could be planning an election.



Corbyn says he wants general election after legislation blocking no-deal gets passed.



Corbyn suggests a vote of no confidence could be followed by a general election, then by a Remain vs. Deal referendum.