Member
Joined in 2008
--------------------------------------------------------------------
"Trump impeachment evidence overwhelming - House report" -
https://www.bbc.co.uk/news/world-us-canada-50650216
House report -
https://intelligence.house.gov/report/
When does the hearing start?

The hearing is set to resume at 3 p.m. GMT on Wednesday. House Judiciary Committee opens Public Hearings.

The first Judiciary Committee hearing on Wednesday will feature a panel of constitutional experts discussing the definition of "high crimes and misdemeanors" and whether Trump's conduct, as described by the Intelligence Committee and other House investigators, meets the standards set out in the Constitution.

Rules adopted by the House also permit the Intelligence Committee's counsel, along with counsel of other committees that have investigated aspects of Trump's conduct as president, to present the evidence they unearthed.

The committee's job will be less about unearthing new bombshells and more about fitting already-known evidence into the impeachment framework envisioned by the framers of the Constitution. In other words: proving Trump's conduct crossed the threshold of "high crimes and misdemeanors" that constitute impeachable offenses.

Where can you watch?

BBC Parliament -

https://www.bbc.co.uk/iplayer/live/bbcparliament

or Freeview channel 131, Freesat channel 201, Virgin channel 612, Tiscali channel 502, Sky channel 504.

Live Blogshttps://www.bbc.co.uk/news/live/world-u ... a-50399361https://www.theguardian.com/us-news/liv ... st-updatesHow the hearings will go down

The Judiciary Committee hearings will follow a similar format to those of last month's Intelligence hearings. Judiciary Chairman Jerry Nadler and his counsel will get the first 45 minutes to question witnesses, followed by a 45-minute round for top Republican Doug Collins and his counsel.

Nadler can call for additional rounds of up to 45 minutes, an option the Intelligence Committee occasionally used. But if he doesn't, the second round of questioning will revert to traditional committee format: 5 minutes of questioning per lawmaker, alternating between Democrats and Republicans.

Unlike the Intelligence Committee's, the Judiciary Committee's hearings will give Trump's White House lawyers some ability to participate in the process.

Under the rules governing impeachment hearings, the president's counsel has the opportunity to question witnesses under guidelines and limits determined by Nadler. Similarly, if Trump's counsel chooses to participate, he may raise objections during witness questioning, though Nadler and the Democratic-controlled committee have the final say. Trump's lawyers also have the chance to submit additional evidence and offer a closing presentation, again subject to Nadler's judgment.

Republicans on the committee may also call witnesses or offer evidence — including by subpoena — but only with Nadler and the full committee's approval.

How long will the hearing take?

TBD
What is impeachment anyway?
To impeach, in this context, means to bring charges in Congress that will form the basis for a trial.

The US constitution states a president "shall be removed from office on impeachment for, and conviction of, treason, bribery, or other high crimes or misdemeanours".

What is the process?
It happens in two stages. Proceedings have to be started by the House of Representatives.

A vote to impeach only needs a simple majority to pass and if it does, the process then moves to the Senate where a trial is held.
What is he accused of doing wrong?
President Trump is accused of pressuring Ukraine's President Volodymyr Zelensky to dig up damaging information on one of his main Democrat challengers, Joe Biden, and his son Hunter.

Hunter worked for a Ukrainian company when Joe Biden was US vice-president.

Asking foreign entities for help in winning a US election is illegal.

What is the evidence?
At the heart of the story is a complaint from a whistleblower - an unnamed intelligence official - who wrote a letter expressing concern about Mr Trump's 25 July call with Mr Zelensky.

A rough transcript of the call revealed that Mr Trump had urged President Zelensky to investigate discredited allegations against Joe and Hunter Biden.

The call came shortly after Mr Trump had blocked the release of millions of dollars in US military aid to Ukraine. A senior official later testified that the president made clear the release of the aid was conditional on Mr Biden being investigated, but the White House denies this.
Who's testifying?Who's doing the questioning?

Judiciary Chairman Jerry Nadler and his counsel will get the first 45 minutes to question witnesses, followed by a 45-minute round for top Republican Doug Collins and his counsel.

Nadler can call for additional rounds of up to 45 minutes, an option the Intelligence Committee occasionally used. But if he doesn't, the second round of questioning will revert to traditional committee format: 5 minutes of questioning per lawmaker, alternating between Democrats and Republicans.

Unlike the Intelligence Committee's, the Judiciary Committee's hearings will give Trump's White House lawyers some ability to participate in the process.

Who's on the committee?https://judiciary.house.gov/about/members
Are more hearings scheduled?
TBD

What next?

Once the Judiciary Committee completes its series of hearings — the number and topics of which are still yet to be announced — the panel is expected to draft the actual articles of impeachment that will be considered by the House.

The most significant question facing the panel? Whether to limit the charges to "abuse of power" based on the Ukraine probe or include "obstruction of justice" based on evidence supplied by special counsel Robert Mueller. Democrats also seem likely to charge Trump with "obstruction of Congress," which would capture broad efforts by Trump to deny witnesses and documents to congressional investigators.

Democrats have eyed Christmas as an unofficial deadline to impeach Trump on the floor and send the articles of impeachment to the Senate, which indicates a pretty quick turnaround if the committee holds hearings into next week.

But Speaker Nancy Pelosi has publicly insisted there is no hard timetable to vote on articles, which suggests the process could spill into 2020. Any delay would raise new questions about whether Democrats should wait on the outcome of multiple court cases that could force additional witnesses to testify.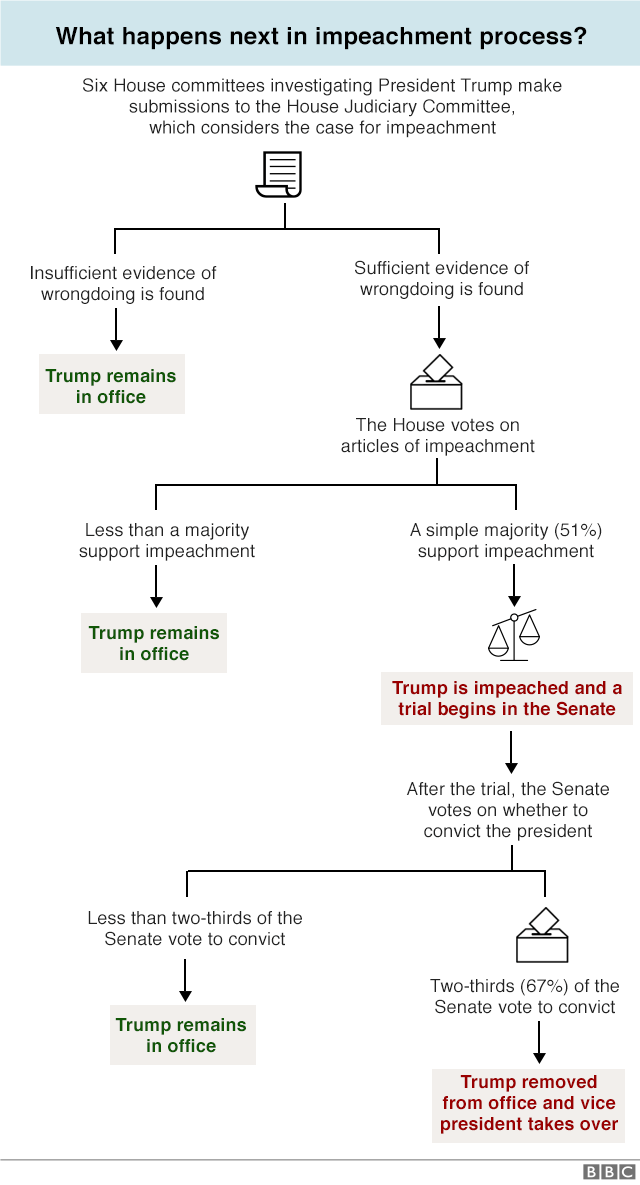 Have other US presidents been impeached?
Bill Clinton found himself impeached on the grounds of perjury and obstruction of justice after he lied about the nature of his affair with Monica Lewinsky and then allegedly asked her to lie about it as well.

But when the trial reached the Senate in 1999, the vote for a conviction failed to get close to the two-thirds backing required.

The only other president impeached was Andrew Johnson in 1868. He was accused of, among other things, dismissing his secretary of war against the will of Congress. Mr Johnson had a narrow escape - the two-thirds majority in the Senate was missed by just one vote.

Richard Nixon, the 37th US president, resigned in 1974 before he could be impeached over the Watergate scandal.

Who would replace Trump?
The line of succession for the US government, as established by the Presidential Succession Act of 1947, would mean Vice-President Mike Pence moving into the Oval Office. If not Pence then House Speaker Nancy Pelosi is 3rd in line.
I know there's a general US Poiltics thread but I think this once in a generation event deserves its own.
Previous witnesses -
House Intelligence Committee hearings -
Last edited by
Monkey Man
on Wed Feb 05, 2020 9:36 pm, edited 27 times in total.