Doctor ♥
Joined in 2008
AKA: Deadpool / sntaa
--
Gerald Ford once used his Golden Retriever, Liberty, in a (very well written) speech. Here's a picture:
Gerald Ford wrote:Needless to say they got the dog and, in the appropriate spirit of the city of Philadelphia, we have named her "Liberty." One of those inquisitive reporters that we have in Washington asked Susan who is going to take care of Liberty; who is going to feed her and groom her and take her out each night or every morning? And Susan did not hesitate one minute. She said, "Of course, it will be Dad." So, I have this feeling — this is one Liberty that is going to cost me some of mine.
Ronald Reagan also had a pet Golden Retriever, named Victory. Best dogs, worst presidents.
--
After just six months in office, Lyndon B Johnson sparked animal rights protests when his official photographer caught him doing this to his pet Beagle, Him: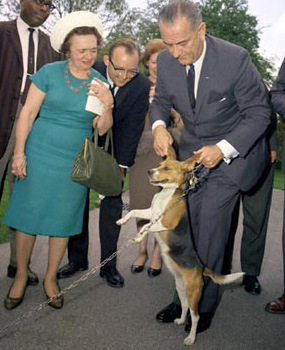 Johnson and his wife Lady Bird eventually took in a mongrel dog called Yuki to go alongside the beagles Him and Her, who travelled regularly with the president and would perform duets with him for White House guests. Essentially they'd both howl.
--
Calvin Coolidge kept a menagerie of pets, including a raccoon, but his favourite was a collie called Rob Roy. Handsome fellow he was, too: